Posted by Dee Dee Mares on Oct 31, 2018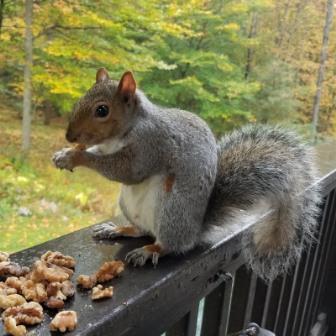 Ok, I am confessing that I too have an "Emotional Support Squirrel". In case you missed the news this October, a woman was kicked off a Frontier Airlines flight for bringing her "Support Squirrel" Daisy on board. Story here.
Now I know this is controversial - I'm still not sure what I think about the whole event. But I felt the need to confess that I too have a squirrel friend. My little guy's name is Spanky. I found him by the side of the road on a cold April morning, he was just a baby, my guess put him at 6-8 weeks old. I knew he wouldn't even make it through the cold night to come if I didn't take him in.
He spent the next week in my bra or curled up on a towel wrapped heat pad. I fed him puppy replacement milk by eye dropper until he graduated to a tiny bottle. I fearfully introduced him to my two hunter cats, although they were very curious, they understood that he was special and not to be touched. (Now he chases them around the house.)
In about a month I started taking him outside and weaning him from milk with little "rodent" treats and raw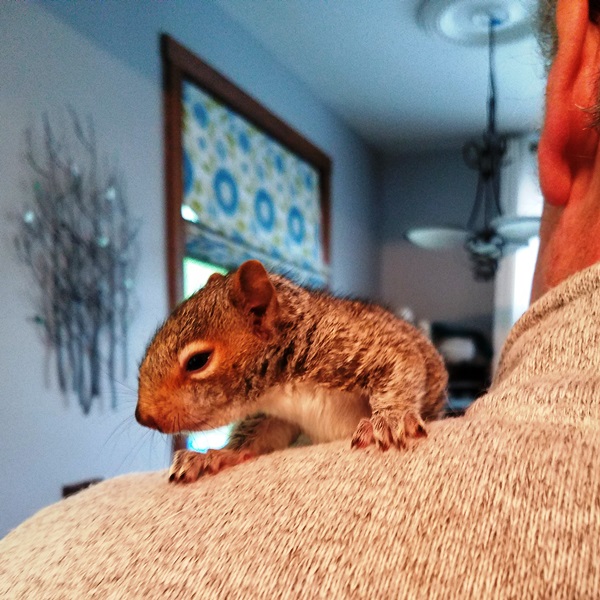 nuts. One day I left him in a very dense arborvitae tree for a couple of hours (with a nut stash). He ran up and down that tree and had a blast, but was ready to come in and jumped on my shoulder. We continued spending time outside each day with him ending up in his tree - until one day when I went back to look for him ... he was gone. He was full size by then and I was happy for him, but sad for myself.
About two days later with the doors open on a nice June day, I found him in the living room eating peanuts out of my boyfriend Dave's bowl. He jumped on my shoulder and we played belly scratch and something I call "donuts" where he flips upside down and circles around my hands. Since then he has come to visit a couple of times a day for nuts and scratches and still is. (I'll let you know what happens when the snow flies.)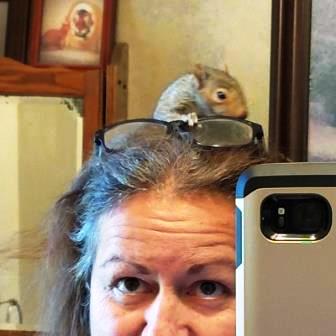 If anyone knows the real "Squirrel Lady" on the Frontier flight please send this to her so she knows somebody understands. And don't worry. I don't plan on taking Spanky on any flights this winter. We're thinking of driving down to Florida to see family and I know Spanky is going to love the National Parks we'll hit. (Just kidding, I think!)